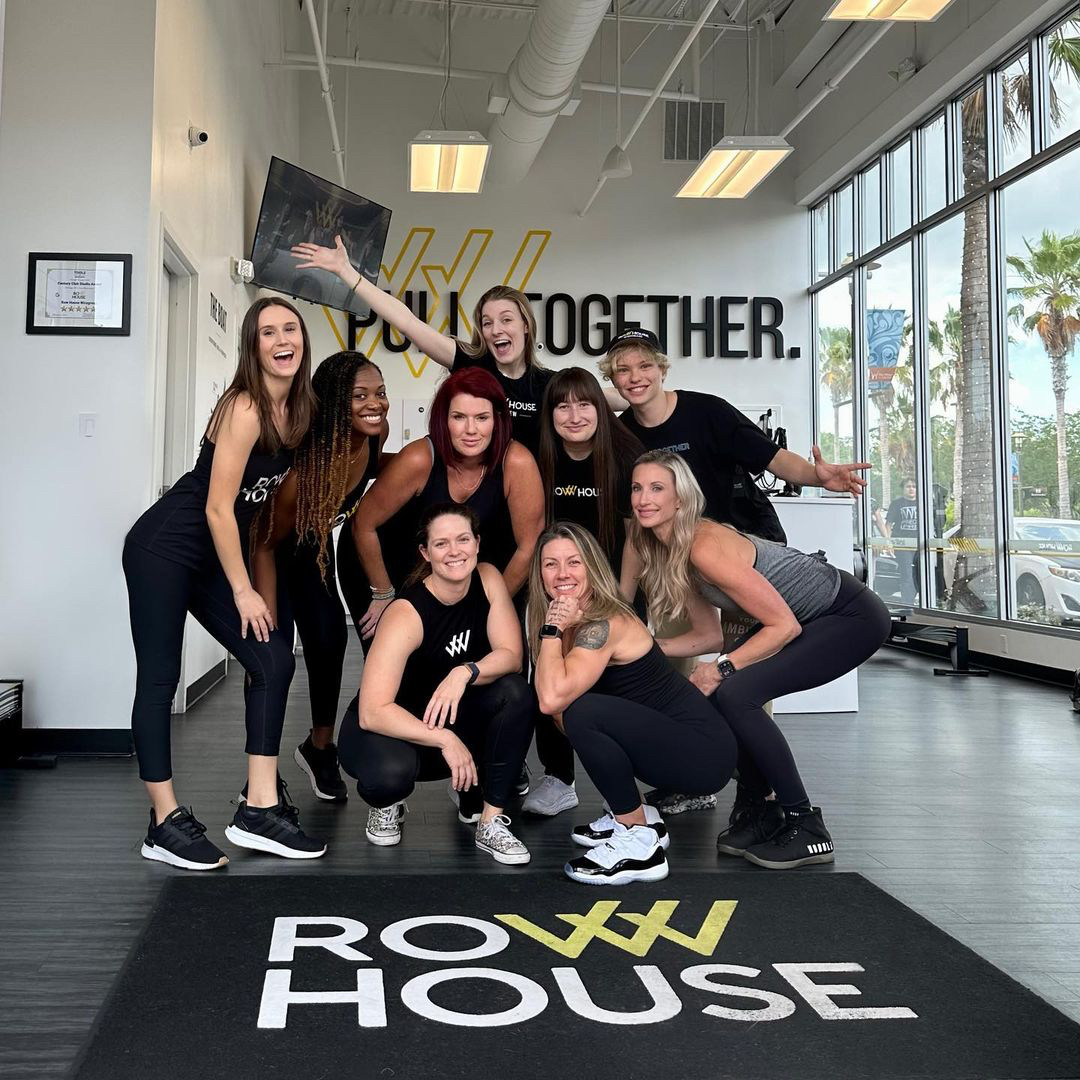 ---
Our Row House community came together in full force for the Stronger for Summer 2023 challenge, leaving no meter unrowed and no effort spared. From coast to coast, our studios poured their hearts into motivating members to hit their 15-class milestone within the 30-day timeframe. We witnessed a tremendous surge of participation, with both new and current members joining forces to make this challenge an unforgettable experience. And let us tell you, the results were awe-inspiring.
First and foremost, we want to express our gratitude for the unwavering dedication shown by our studios. They tirelessly encouraged and supported their members from early mornings to late evenings, ensuring that everyone had the opportunity to reach their goals. Their commitment to fostering a thriving Row House community was truly commendable.
The impact of this challenge extended beyond the studio walls and spilled over into the digital realm. Our members flooded social media platforms with electrifying content, sharing their journeys, their triumphs, and unwavering camaraderie. It was heartening to see the never-ending support and encouragement showered upon one another, proving once again that Row House is not just a workout, but a crew.
Now, let's delve into the official numbers that showcase Row House's outstanding performance throughout the challenge. Brace yourself for some truly impressive statistics:
Number of Challenge Sign-ups: An astounding 5,464 individuals eagerly embraced the Stronger for Summer 2023 challenge. It's a testament to the enthusiasm and commitment of our community.
Number of 15-Class Finishers: Out of the dedicated participants, an incredible 2,386 individuals successfully completed the challenge by rowing their way through 15 classes. These individuals demonstrated unwavering determination and a relentless pursuit of their fitness goals.
Total Sweat Minutes: Our Row House crew collectively logged an astonishing 3,188,700 sweat-drenched minutes. Each minute represented a moment of resilience, perseverance, and personal growth.
Total Rowed Meters: The meters accumulated by our dedicated rowers during the Stronger for Summer challenge reached an impressive 389,730,000. That's the equivalent of rowing around the world 9.7 times! The sheer magnitude of this distance showcases the incredible physical strength and endurance of our community.
We couldn't be prouder of every individual who participated in the challenge. Whether you rowed your way through your first class or pushed your limits to achieve new milestones, your commitment to personal growth and well-being shines brightly.
As for who the random winner of our Grand Prize of 2 Princess Cruise tickets is? Check out our celebration post HERE with footage of our winner being notified! Be sure to share your congrats to our lucky member.
As we reflect on the Stronger for Summer 2023 challenge, we're reminded of the immense power of community and the remarkable achievements that can be accomplished when we row together. This challenge was not just about physical fitness; it was a celebration of resilience, determination, and the indomitable spirit of the Row House crew.
To all our participants, studios, and community members, thank you for making Stronger for Summer 2023 an unparalleled success. Your dedication and unwavering support continue to inspire us every day. Let's carry this momentum forward, embrace new challenges, and row our way to even greater heights!
Stay tuned for more exciting updates and upcoming events as we continue our journey toward a stronger, fitter, and more vibrant future with Row House.
How to Get Involved in Next Year's Stronger for Summer Challenge:
Are you ready to take your summer fitness journey to new heights? Look no further than the Stronger for Summer challenge hosted by your local Row Houses studio. This thrilling event will push you to your limits and unlock amazing rewards. Here's how you can get involved and make the most of the next challenge:
Mark Your Calendar: Make sure to save the dates for the next Stronger for Summer challenge. This is your window of opportunity to dive headfirst into an exhilarating fitness experience.
Complete 15 Classes: The premise of the challenge is simple yet rewarding – complete 15 classes within the designated challenge period. Not only will you elevate your fitness level, but you'll also earn raffle tickets for a chance to win fantastic prizes. Trust us, the rewards and surprises will make every ounce of effort worth it.
Exclusive Class Pack Offer: Keep a lookout for the exclusive class pack offer. This special package will be available to both current members and new rowers, providing the perfect opportunity to join the Row Houses community and participate in the challenge. Seize this offer to maximize your engagement and get closer to achieving your fitness goals.
Embrace the Row Houses Community: The Stronger for Summer challenge extends beyond individual fitness pursuits. It's a chance to immerse yourself in the vibrant and supportive Row Houses community. Surround yourself with like-minded individuals who will motivate and inspire you on your fitness journey. Share your experiences, offer encouragement, and celebrate each other's achievements. Together, we're stronger.
Stay Updated: As the challenge approaches, stay tuned for updates and announcements from your local Row Houses studio. Follow our social media channels, regularly check our website, and subscribe to our newsletter. By staying informed, you won't miss any important information about the challenge, including key dates, special events, and any surprises in store.
Spread the Word: Share the excitement of the Stronger for Summer challenge with your friends and family. Encourage them to join you in the next edition. Remember, the more, the merrier! By recruiting workout buddies, you not only enhance your own experience but also increase your chances of winning referral rewards. Together, we can contribute to the growth and vibrancy of the Row Houses community.
Get ready to make the next challenge your strongest one yet. Mark your calendar, prepare yourself for the challenge, and be ready to kick-start your fitness journey with the Stronger for Summer challenge. Stay connected with Row Houses to receive updates and be the first to know when the next challenge is announced. We're excited to row alongside you and witness your amazing achievements in the next Stronger for Summer challenge. Let's make it an unforgettable journey together!
---