---
Welcome back to the Row House blog, where the magic of fitness, community, and transformation all commences with a single stroke. As someone who frequents our studio, we can personally vouch for the incredible journey that awaits you. In this blog post, we won't just provide you with an overview of what sets Row House apart; we'll also delve into the remarkable transformation that unfolds after just one class and how it can genuinely impact your daily life. But before we delve into the multitude of benefits that rowing at our studio offers, let's shine a spotlight on the awe-inspiring power of that very first class – it's the spark that not only ignites your body but also reshapes your entire perspective on fitness. So, prepare to fasten your seatbelts because we're embarking on an exhilarating journey through the realm of Row House, where your path to a healthier, happier you begins with a single stroke.
Expert rowing guidance and community support

The Row House experience is a transformative journey that begins the moment you step into our studio. In your first Row House class, you can expect a warm and welcoming environment designed to cater to both beginners and seasoned rowers. Our experienced instructors will guide you through every step of the way, ensuring that you grasp the fundamentals of rowing technique. From understanding the intricacies of the rowing machine, or ergometer, to emphasizing the importance of proper form, our aim is to empower you with the knowledge and skills needed to row effectively and safely. Our instructors, who are experts in their field, bring a wealth of experience and qualifications to every class, ensuring that you receive personalized guidance tailored to your unique fitness goals. But it's not just about technique; it's about the sense of community and motivation that sets Row House apart. Our supportive class atmosphere fosters camaraderie, making every class a group effort towards achieving individual goals. You'll find accountability, encouragement, and a newfound sense of determination that will leave you feeling inspired before and after each session.
More that just a rowing workout!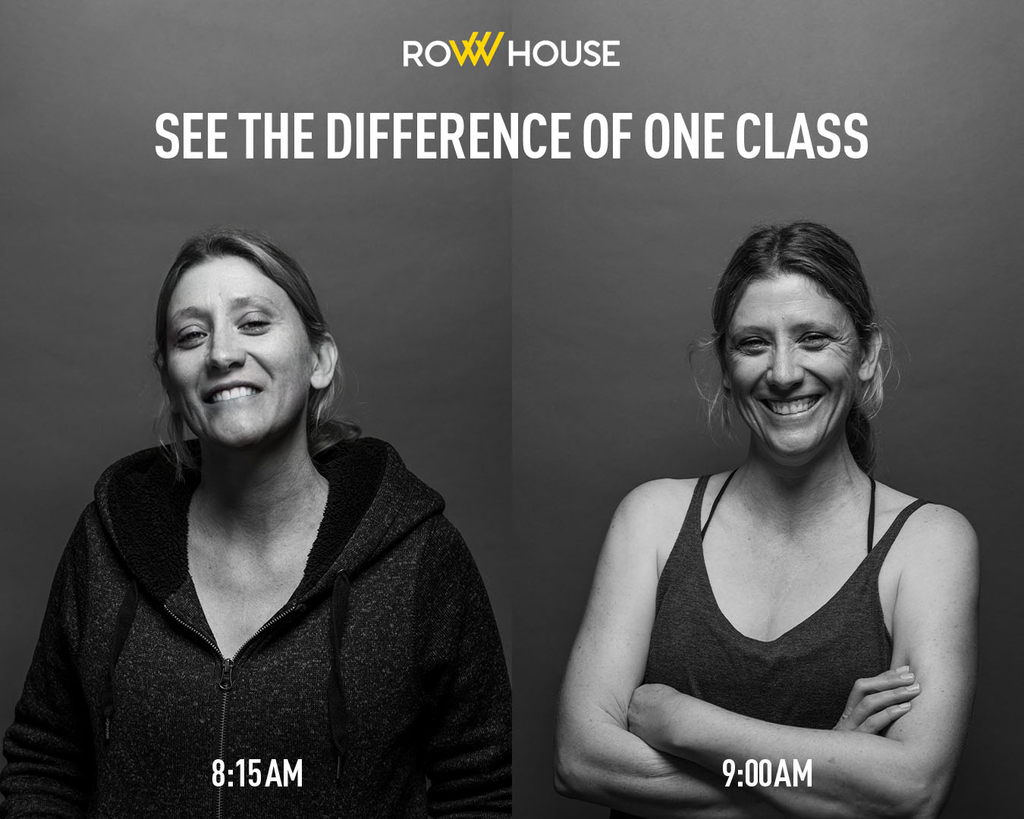 Throughout the month of September, our primary objective at Row House was to shine a spotlight on our members and their individual journeys within their local studios. As we delved into this initiative, a remarkable trend emerged: our members' impact went far beyond the confines of our fitness classes. It became abundantly clear that our community was not only incredibly passionate but also profoundly appreciative of the positive influence Row House had on their daily lives. Many of our members shared stories of how our studios had become more than just places to work out; they had become sanctuaries of support, motivation, and camaraderie. The bonds formed within the Row House community were a testament to the power of collective motivation and encouragement, highlighting how we have become more than just a fitness center but a cherished part of our members' journeys towards a healthier and happier life.
"Hi, so I've tried lots of different workouts and gym memberships, nothing has ever stuck. Row House has transformed my life. I have lost weight, I have toned up but my brain works better. I have a pretty tough job and when I come into these doors I feel refreshed and energized by the time I leave so that's why I row and that's why I row at Row House. " - Monica R. Row House Smokey Hill
we Build strong minds and bodies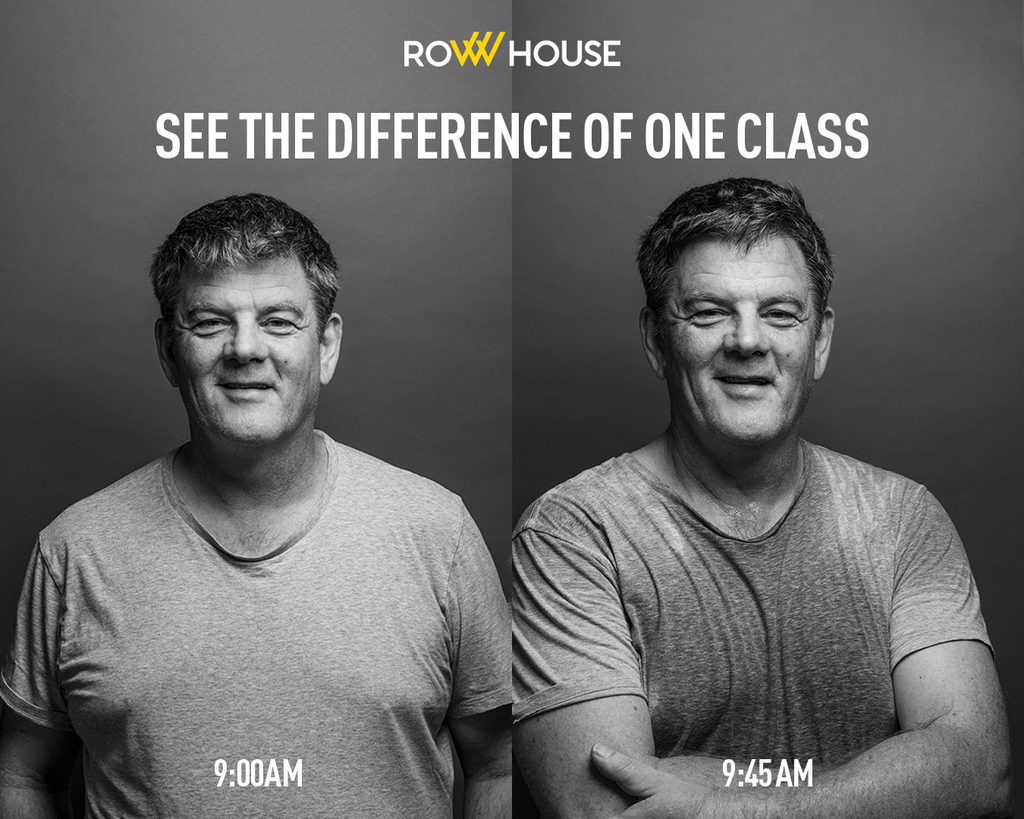 As the leader in indoor rowing-based fitness, we've been astounded by the immediate impact of our Row House classes. From the moment our members step out of the studio, it's evident how transformative just one class can be. The change in their energy, posture, and radiant smiles on their faces is remarkable, and it's a testament to the power of rowing. Beyond the immediate joys of the Row House experience, it's essential to explore the long-term benefits that await you. Rowing isn't merely a workout; it's a pathway to holistic wellness that unfolds with each stroke. In terms of physical benefits, rowing offers a multitude of advantages. First and foremost, it significantly enhances cardiovascular health, bolstering your heart's strength and promoting improved circulation. Simultaneously, rowing delivers a comprehensive full-body workout, engaging over 85% of your muscles in every rhythmic motion. This unique combination of cardiovascular conditioning and strength training yields remarkable results while being gentle on your joints, ensuring accessibility for individuals of all fitness levels.
Discover your best self at row house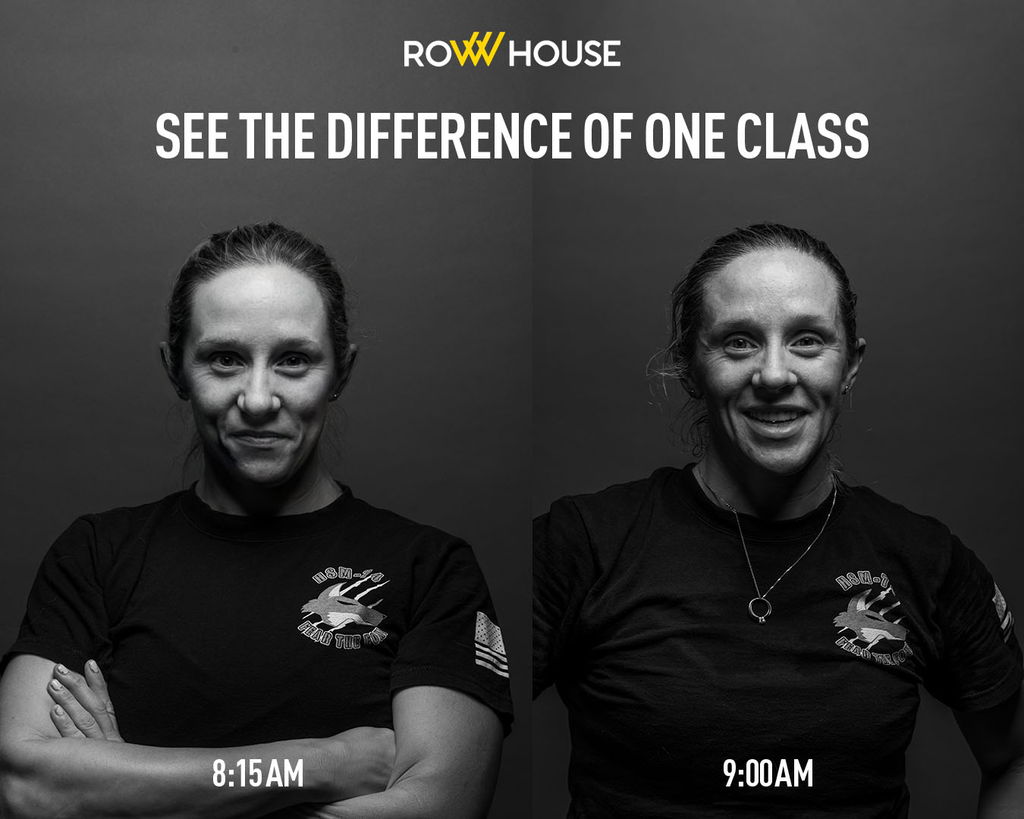 Row House is a true game-changer! It's not just about exercise; it's about the transformative power of indoor rowing. We're talking about a healthier heart, a sculpted physique, and an undeniable boost in confidence—all achieved through the rhythmic strokes on our Concept2 rowing machines, encapsulated in one incredible journey. So, if you find yourself on the fence, let me tell you, there's no better time than now to grasp that oar, take your first stroke, and become a part of our vibrant rowing community. By doing so, you won't just be joining a gym; you'll be embarking on a path toward becoming the best version of yourself through the incredible benefits of indoor rowing. Row House isn't just a workout; it's a lifeline to achieving your fitness and wellness goals, and it's a journey that we wouldn't want you to trade for anything. Row with us, and together, let's conquer those goals and navigate the cycles of life's challenges with strength, determination, and the joy of rowing at Row House. Book a class today!
---